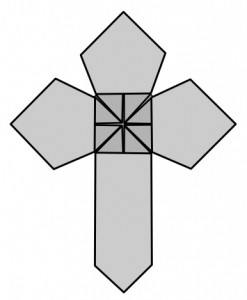 Now available for purchase and download (for $2) from the OrigamiUSA web store is a file with diagrams for one of three origami cross designs I taught at the OrigamiUSA convention in the summer of 2014. The file includes 6 pages of diagrams and one page with Gothic-style patterned paper you can print and cut out to fold this cross. Included in the diagrams are two main variations regarding the shape of the arms of the cross, and other suggestions for how to personalize the design with other alterations. The text instructions are provided in English and Spanish.
I hope to upload two more cross designs soon; this is the simplest of the three (hence the title, "variation 1").
Click here to go to the product page on the OrigamiUSA store ("The Source")!